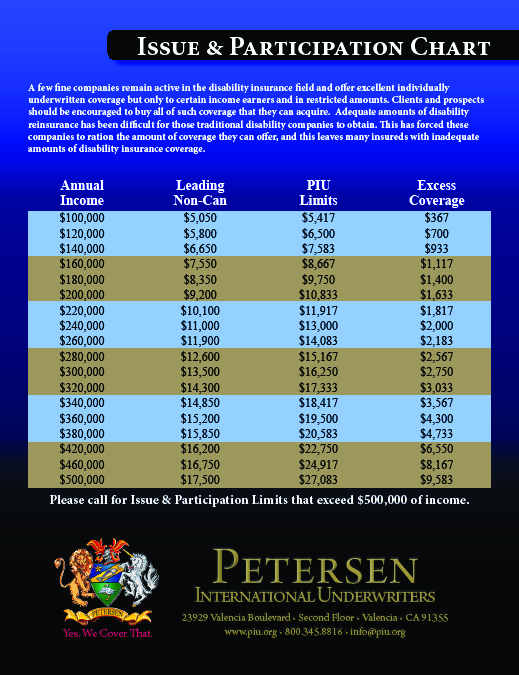 Mining for Disability Sales
Dig deeper into cases to find more paydirt!
Make sure every life client is also approached on the need for Individual Disability Insurance (IDI).
Do not let age be a factor, as many seniors have been forced to continue working.
Make good use of any life insurance application to get fresh IDI underwriting.
BGA's and GA's can play a huge roll in helping agents present IDI to their life clients.
Carriers can play the same role by making an offer or at least a proposal for IDI.
Alliances between life carriers that do not offer IDI and those that do are possible.
Idea: "Mr. Client, congratulations on preparing for the unexpected with life insurance, which will replace your lost income and protect your assets. But if you become disabled, don't you need to accomplish the same goals?"
Do your clients have a minimum of 65% of their personal income insured? (See Issue & Participation Chart above)
Show them the max! Do not forget to prescribe the maximum, even if it involves using supplemental coverage.
This protects you from replacement if another agent offers to perform this vital service.
Automatic issue plans can be used following full underwriting for IDI.
Idea: Demonstrate to your client how being underinsured is just as bad as not being insured at all.
Discover and research an IDI applicant's employer to see if further business can be done there.
Prepare a supplemental voluntary Guaranteed Issue (GSI) proposal for the firm.
Explore other business insurance opportunities:
• Buy/Sell
• Buy-In
• Business Overhead Expense
• Key Person
• Business Loans
• Severance Agreements
Scour the files to discover insurable situations, such as:
• Unique Occupations
• Buy/Sell Rescue Plans
• Unusual Work Hours
• Unique Places of Work
• Business Ventures
• In-Between Employment
These and many of our other terrific sales ideas demonstrate how making Specialty DI
part of your daily sales routine can take your practice to the next level.
Contact us today for more information.
---

800.345.8816 • piu@piu.org • www.piu.org

Download pdf format here:
12-4-12.pdf