Risk Spotlight – Real Life Case
---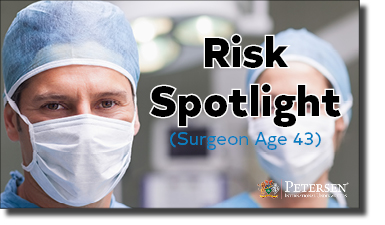 A 43-year-old surgeon was seeking supplemental disability insurance to financially protect his young family should he suddenly be unable to work due to an accident or illness. With an annual income of $800,000 and a total of $25,000 per month of underlying income protection, the client was maxed-out with traditional carriers and unable to attain additional personal coverage.
His agent reached out to Petersen International, and we were able to underwrite and issue him coverage with a five-year, renewable policy term and monthly benefits of $18,000 per month with a 60-month benefit period after a 90-day elimination period. We additionally provided him a robust $4,000,000 permanent DI lump sum benefit on the end of his monthly benefit schedule. The Petersen coverage satisfied the doctor's insurance needs and appropriately covered his income up to the 65% level.
Petersen International has the solutions your clients need for excess coverage and insurance on hard-to-place cases.