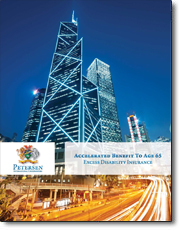 Common Uses
Highly compensated individuals are often left underinsured for disability insurance benefits. Like most Americans, highly compensated individuals often maintain modest savings accounts relative to their monthly expenditures. This means that their need for disability insurance is equal to the normal standard of 65% of income – only in a larger monthly amount.
Accelerated Benefit To Age 65 Plan
The Accelerated Benefit To Age 65 plan was designed to provide an insured person with high-level coverage on top of any existing benefits while at the same time providing a benefit period that will provide income for the insured person to age 65. Since this policy is offered as an excess or supplemental policy, the insured person must have underlying group and/or individual disability coverage in force. When the insured person becomes disabled and the elimination period is fulfilled, the insured person will begin receiving monthly disability insurance benefits. If the insured person is totally disabled for a period longer than 120 months, the Accelerated Benefit Payout provision will be triggered and the policy will pay the remaining monthly benefits to age 65 as a lump sum without any additional definition restrictions.
5 Year Policy Term
90 Day Elimination Period
"To Age 65" Benefit Period
Accelerated Benefit Payout
Coverage Beginning At Ages 35
"Own Occupation" Including Specialty