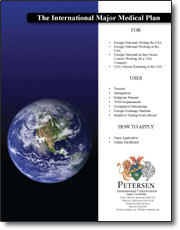 Common Uses
Benefits include:
Policy term up to 11 months
Medical coverage available to $1,000,000
Deductibles available from $0 to $5,000
$100,000 for medical evacuation & repatriation of remains
$25,000 for accidental death
$5,000 of emergency return home
$1,000 of trip cancellation
$500 for outpatient prescription medication
$500 for lost luggage
International Major Medical Insurance Plan
This plan is not Affordable Care Act (ACA) compliant.
Foreign nationals traveling to the United States on business or for vacation may not be aware of the expensive cost of medical treatment in the US. Imagine the shock and stress that could overwhelm your foreign clients upon the realization that they are fiscally responsible for medical care in the event of an accident! With PIU's International Major Medical plan you can help protect your clients in the event of an accident while they are traveling in the USA. With our online application, getting coverage couldn't be easier.
Instant Quote / Apply Online - save $100 processing fee
Uses
Foreign Nationals visiting the USA.
Foreign Nationals moving to the USA.
Foreign Nationals employed by a US company who reside in their home country.
Foreign Nationals employed by a US company working outside their home country.
It can be confusing to navigate a foreign country with different customs, restrictions, and guidelines. But, with the International Major Medical Insurance plan, your clients can travel in the US virtually worry-free. The International Major Medical is specially designed for people visiting the United States on business or vacation. This plan can provide medical coverage for up to one year with benefits up to $1 million.
Options available:
Accidental Death & Dismemberment up to 10x income
Hazardous Sports & Activities