A New Frontier of Employee Benefits
by
Thomas Petersen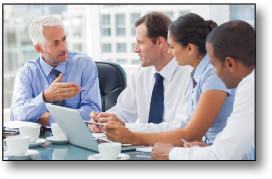 The employee benefits industry, with the mandated inception of President Obama's Affordable Care Act, has become a more complicated and muddled field. Companies are being forced to provide benefits which they can hardly afford, and compliance and management headaches have surpassed any level of reason. Human resources personnel and employee benefits managers have their hands full to say the least.
We have witnessed, as of late, the incredible difficulties insurance agents and benefits advisors are having with the introduction or mere suggestion of new employee benefit programs to their corporate clients and leading prospects. The monetary costs and man-hours needed to successfully implement a comprehensive and beneficial insurance program can be egregious and many times prohibitive. Simply the thought of implementing a new program can be quite unattractive to veteran HR managers.
However, there are benefits programs out there that are cost-effective and materialize more readily than those made available by traditional benefits carriers. Petersen International would like to introduce you to the concept of guaranteed issue, multi-life excess disability insurance. Supplemental personal disability income insurance, with astronomical limits, is now available on a multi-life chassis with heavy group discounts, exceptional benefit terms, "own occupation" definitions and complete policy portability.
This type of program is a good sell to business sectors that truly value and are receptive to generous levels of income protection insurance. Common markets are physicians and surgeons as well as law firms and dental groups. Most recently, we have been introducing this product to accounting firms and entertainment management companies. Most Americans fail to carry sufficient levels of disability insurance, making multi-life excess disability insurance an obvious choice for employee benefits experts. This product is a perfect fit for corporations who have responded well to group DI, but whose higher income earners don't carry enough coverage to meet the industry suggested standard of 65% of income.
Multi-life programs are flexible and can be designed for mandatory, voluntary or hybrid benefits on a guaranteed issue basis, allowing policies to be underwritten with virtually no paperwork or obtrusive medical examinations.
And don't be afraid to use your current client base as a starting point. From a marketing and sales perspective, this form of employee benefit program opens the door for you as an advisor to turn a single excess DI referral into further communications with an HR department or a board of directors. The sky is the limit.
Click Here to learn more about Multi-Life Disability Insurance.