Life Insurance Anywhere and Everywhere
Insurance services, securities and other business industries are constantly researching, analyzing and discussing the contemporary point of "globalization" which has been defined as "the development of an increasingly integrated global economy." We, as business professionals, have become witness to this phenomenon on a daily basis as many of our contacts, friends, relatives and clients travel frequently for business or live abroad. U.S. business interests have expanded to all corners of the planet and American work forces have followed. Whether employed by U.S. companies, foreign businesses or whether they are simply retired expatriates, American citizens are living anywhere and everywhere throughout the world. And they have life insurance needs and requirements like any of your domestic-based clients.
We hear every day from life insurance brokers and agents who have continuously found impediments when trying to acquire for their clients suitable life insurance without exclusions or limitations for international travel or residence.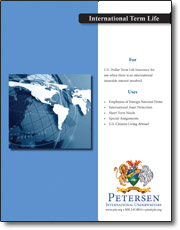 In celebration and recognition of the upcoming Life Insurance Awareness Month of September 2013, Petersen International Underwriters would like to introduce to insurance producers everywhere the International Term Life Insurance Plan. The International Term Life Plan provides up to 10 year term comprehensive life insurance to U.S. citizens living in every country of the world including war zones and international political hotspots. Policies are available on individual or guaranteed issue group chassis.
The International Term Life Insurance Plan should be your new substantial-term tool to diffuse risk and properly insure your international clientele.
Please contact Petersen International Underwriters for more information regarding our international line of life, disability and medical insurance products.