Meetings on Demand – a New Tool from Petersen International
---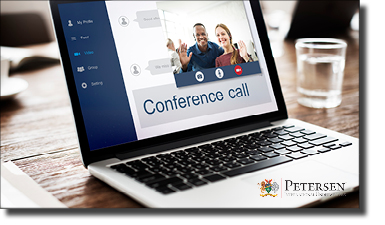 The COVID-19 pandemic has forced changes to business practices the world over. Common now are video meetings and teleconferences so as to accommodate employees working remotely, outside the traditional confines of an office building conference room. Not only are these activities promoting social distancing and safer business practices, but they are also keeping you, your employees and your colleagues in the know with the goal of maintaining a semblance of normal business etiquette.
Petersen International Underwriters has further embraced cutting-edge technologies including multi-media communication platforms during these uncertain and evolving times. We are excited to present the launch of a new tool for general agencies, independent agents and financial advisors.
The novel program is called Meetings on Demand (MOD) and has been designed to bring unique and customized virtual meetings from our office directly to you, the insurance producer. Meetings can be bespoke or include commonly requested topics such as "demystifying the world of Lloyd's" or "making money with excess/supplemental disability insurance."
Unlike traditional webinars, our Meetings on Demand have been developed to fit your timeline and schedule. You only have fifteen minutes? No problem, we can accommodate. You would like to discuss a product line right now before you meet with your client? We can do that. You have a number of back-office staff with whom you want us to speak about high-limit disability insurance, but you can't afford the time and space to have them all in the same meeting? MOD is the perfect solution.
While webinars and podcasts are frequently provided on a pre-recorded basis or offer little in the way of a two-way communication, Meetings on Demand is completely interactive to all users. Think of it as a direct conversation on steroids. MOD can provide you with updates on product types and uses or what's trending in the specialty disability market. MOD can provide your staff and colleagues with topics that will help them find extra premiums among existing and prospective business. MOD can provide your producers with a virtual meeting on your behalf on a multitude of relevant insurance topics, highlighting your firm.
To find out more about the fresh capabilities of this tool from Petersen International, please contact our Meetings on Demand team at (800)345-8816 or one of our regional vice presidents.
Northeast – Isaac Danziger
(800) 345-8816 | Isaac@piu.org
South – Lori Boggs
(800) 345-8816 | Lori@piu.org
West – Todd Shield
(800) 345-8816 | Todd@piu.org