Petersen DI Plans Now Available In Rhode Island!
---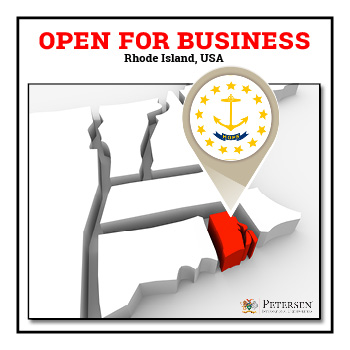 Petersen International is pleased to announce that after years of work with legislators, lobbyists, attorneys and department of insurance representatives, we now have the authority to market and sell disability insurance policies in the state of Rhode Island. Governor Gina Raimondo of the state of Rhode Island has officially signed insurance bills S0536 and H5457 into law. The bills allow for disability insurance to be placed in the state of Rhode Island through Surplus Lines.
Petersen International Underwriters was responsible for the bills' creation and supported lawmakers during its passage into existence.
Effective July 10th, 2019, the new law allows Rhode Island residents to procure personal and corporate disability insurance plans from Petersen International that are not available through "traditional" disability carriers.
We would like to thank all those involved with this undertaking including Tom Petersen and lobbyist Robert Goldberg.
Please call Petersen International at (800)345-8816 to learn more about disability insurance for residents of the great state of Rhode Island.