Risk Spotlight – Real Life Case
---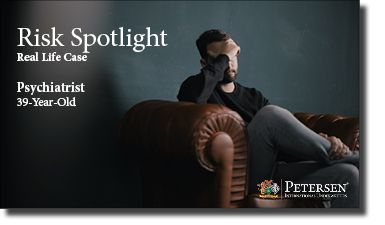 A 39-year-old psychiatrist was seeking some personal disability insurance in excess of her medical practice's group coverage. However, she was finding it quite difficult to acquire any offers from the domestic market carriers because of her health history. She unfortunately suffers from IGA nephropathy, a chronic kidney condition as well as kidney-related lab elevations. With an annual income of $295,000 and $6,000 per month of underlying income protection, the client was hoping to find additional coverage participating up to 65% of her income.
Her agent reached out to Petersen International, and under the stipulation of a kidney exclusion, we were able to underwrite and issue coverage with a five-year, renewable policy term and monthly benefits of $9,975 with a 60-month benefit period after a 90-day elimination period. We additionally provided inflation adjustment and residual disability riders. The Petersen coverage satisfied the doctor's insurance needs and appropriately covered her income up to the 65% level.
Petersen International has the solutions your clients need for impaired risks and excess coverage.