SBA Loan Solutions
---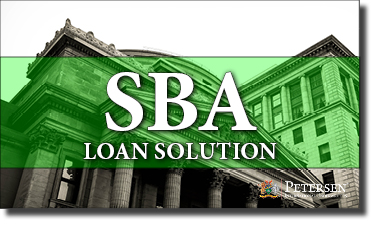 Since 1953, the Small Business Administration, a federal government agency, has sponsored capital lending programs for small business owners and entrepreneurs, becoming a cornerstone of financial support of the American business world. The SBA partners with various categories of lending institutions including public and private banks and credit unions to offer financing in the form of business loans to start, grow and generally improve corporate ventures in this country.
But considering the voluminous number of start-up businesses that don't prosper and eventually fold has historically been alarming to lenders. Therefore, many checks, balances and hurdles are required when someone attempts to secure a capital advance even from the SBA. One such requisite demand of lenders is life insurance to indemnify the premature death of a borrower during a loan term. SBA lenders typically won't close on most corporate loans without collateralized backing in the form of life insurance at sufficient amounts, often mirroring entire loan balances.
Historically, simple term insurance is often assigned to address lenders' loan requirements, but more and more, agents and advisors are finding traditional term life coverage is not as readily available to prospective borrowers as it might have previously been or is not the right fit at the right time. Personal health issues like cardiovascular disease, obesity, diabetes and cancer histories and additional impaired risks like drug and alcohol concerns frequently leave potential borrowers uninsurable and unable to secure the loans they need for business growth.
Another common roadblock is timing. Lenders usually place tight timelines on the application, approval and funding processes involving corporate loans, and often, borrowers struggle and sometimes fail to secure proper levels of life insurance in time.
Fortunately, Petersen International has solutions to address all of these concerns. The Business Loan Failure to Survive (FTS) plan is a simplified-issue term product that provides a death benefit that can be collaterally assigned to a lending institution for the explicit purpose of covering a business loan. The product requires no exams or labs, just an application that can be underwritten, issued and assigned in a matter of days, not weeks or months. It is the perfect tool to meet the tight closing schedules of most lenders. The FTS coverage can also be taken out by clients who are currently in underwriting for traditional policies, but are needing immediate coverage to close on their loan. Then they may cancel the FTS coverage once their approval comes in on the longer-termed product.
Furthermore, the loan FTS plan employs a more liberal underwriting methodology than that of most traditional life carriers. By shortening terms or by use of health exclusions or ratings, we are able to accept impaired risks that are typically declined or postponed by other insurance companies.
In addition to providing death benefits to clients in need of securing business loans, our disability insurance department also has significant solutions that complement the Failure to Survive program. Please contact us at (800)345-8816 with questions about insurances for SBA loan requirements.