Stay Connected
---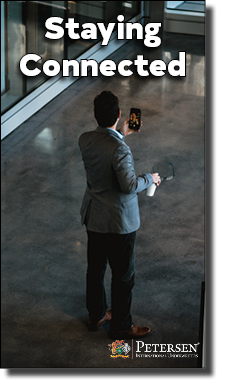 Feeling a little or a lot cut-off from the world? Despite the political and social dramas being played out over all forms of media in recent months, life in the U.S. has been anything but familiar or inclusive since early 2020. The Coronavirus pandemic, daily local and national protests and the polarizing political scene have continued to make Americans feel detached from the norm this year.
Many of you are still working from home for peace of mind or to adhere to social distancing measures, and we have heard from numerous insurance offices that have opened, but are still working at partial staff as furloughs and layoffs continue.
What a year!
But through all of this, Petersen International doesn't want you to feel alienated or uninformed regarding insurance markets that continue to prosper despite the problems and slowdowns spreading throughout many other industries and facets of life. More so now than ever, your clients need your financial guidance.
Resist complacency and misinformation. Stay connected and up-to-date with the goings on of the U.S. and international life and health markets. Don't hesitate to drop us a line, give us a call or send us an email to find out what's hot, what's slowing down, what's trending and where the future is heading.
We have in-house experts and regional representatives throughout the country happy to set up a conference call, Zoom meeting, video chat or even an in-person visit to catch-up with you, answer any questions and lend insight into what lines of business can help or hinder your practice during these tempestuous times.
Despite the continuous hardening of insurance markets the world over, outlooks in the specialty disability and life sectors remain very positive with upward trajectories. There is much to be excited about at Petersen International, and 2021 looks like it will be another monumental year for our specialty lines of business.
Give us a call ((800)345-8816) or send us an e-mail (piu@piu.org) if you are looking to set-up a virtual meeting with one of our specialists. Petersen is here for you.