Take the Case of…Ms. S.
---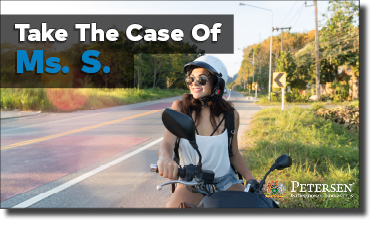 Ms. S. is a 47-year-old attorney and partner of a California-based law firm.  After years of hard work and successful practice, she was enjoying a very comfortable lifestyle with her wife in their lovely San Francisco Bay-area home.  She was earning an annual income of $375,000, and was the primary breadwinner of the household.
Her firm's employee benefits allow for long-term disability cover up to 60% of income with a cap at $10,000 per month of taxable benefit. There is an additional partner perk of a mandatory layer of $7,500 monthly as a top-up. Several years ago, Ms. S. and her insurance agent responsibly came to the assumption that her income protection wasn't at sufficient levels, considering the affluent lifestyle she and her spouse had come to appreciate. Her agent sought out Petersen International in hopes of acquiring additional disability insurance.
Our underwriters took the time to analyze her case and take the taxability of her group benefits into consideration. Petersen was able to provide Ms. S. with an excess personal DI layer, participating up to 75% of her income with a monthly benefit of $6,000 of "own occupation" insurance on-top of her other disability benefits. The policy included advantageous riders for residual disability claims as well as cost of living adjustment. Further considering her age, relatively good health and occupation, our underwriters graciously offered a supplemental lump sum permanent disability benefit of $900,000 on the tail of her monthly benefit period. Ms. S. accepted our offer, and the policy was quickly issued after the appropriate completion of financial and medical underwriting.
Last year, Ms. S. and her wife were enjoying a beautiful Caribbean vacation. During an island excursion on a moped scooter, she suffered a horrific traffic accident in which she hit a guard rail at significant speed. Her helmet saved her life, but she was incapacitated by serious head trauma and multiple facial fractures. After being stabilized, she was airlifted back to the states.
Since that time, her wounds have healed, but she endures continued cognitive impairments. She is currently not able to practice law and earn that salary that maintained her household expenses. She continues to undergo regular physical therapy with the sincere goal of getting back to work in her original capacity.
Fortunately, Ms. S. had the prior diligence to acquire high limits of personal disability insurance for which the benefits are being used to run her household and limit the measurable medical costs that aren't covered by her health insurance. She also has the significant lump sum benefit from Petersen International to count on in case her disablement keeps her from working the rest of her life.
Contact our disability insurance department at (661)254-0006 to find out more about financially safeguarding your clients and their families.